McAllen Performing Arts Center | McAllen, Texas
Launching her first-ever headlining tour, Becky G is set to light us all up like the fourth of July at her just-announced 'Mi Casa, Tu Casa' tour. Coming to you live on stage at McAllen Performing Arts Center on Sunday, 1st of October 2023, the superstar that got the world 'singing in the shower is stoked to perform her first headlining tour trek. Dominating the Latin American music scene for her unmatched energy and female angst, Becky G is serving her biggest hits, fan favorites, and big surprises, hinting at new music in the works. Following a show-stopping performance at Coachella singing "Cuando Te Besé", Fulanito", "Shower", and her newest single "Chanel" with Peso Pluma, her first-ever headlining trek is definitely something to watch out for. So, stop just singing in the shower and join the crowd at Becky G's 'Mi Casa, Tu Casa' by booking your tickets now!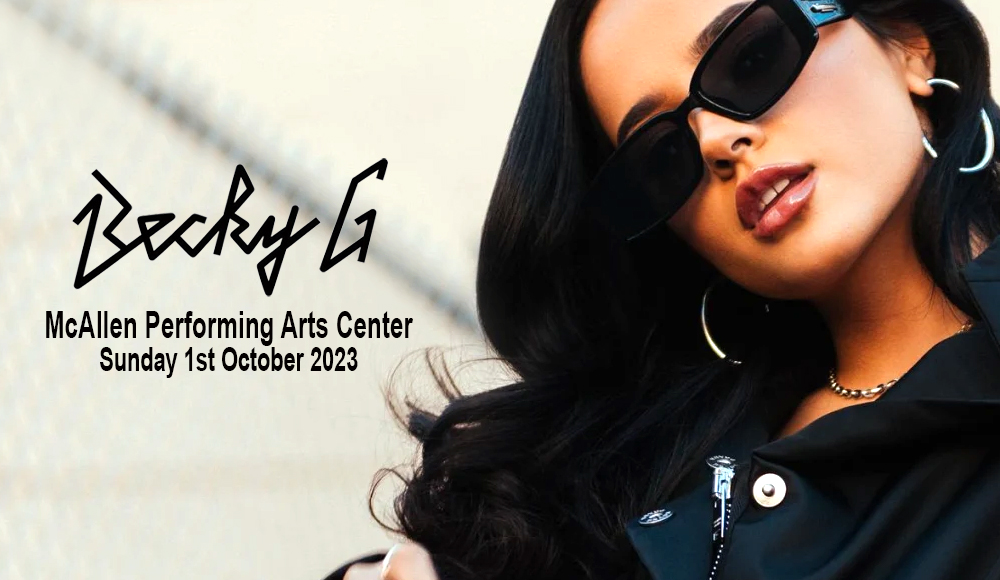 Taking her music from the 'shower to the live stage, this generation's reigning queen in the Latin American music scene, Becky G, is finally launching her first-ever headlining tour this fall! The 16-show 'Mi Casa, Tu Casa' trek is serving her biggest hits, fan favorites, and new music live on stage. Following a raved Coachella performance, awards, and a slew of guest performances, Becky G is jet-set to own the night at her first headlining trek.
"I'm so excited to go out on the road for my first ever headlining tour and to see all my beautiful fans and supporters across the country in these intimate settings," Becky G shared as she announced 'Mi Casa, Tu Casa'.
Taking the world by storm with her pop-rap banger "Shower" in 2014, Becky G switched things up as she crossed over to Latin American music, paying homage to her roots. Launching a new era with "Mayores" in 2017, the singer topped charts across Spain, Mexico, and several other Latin American countries, marking the start of her reign as a new queen in the scene.
The single bagged a 46x Platinum certification from the RIAA (Latin), and received praises from fans and critics alike. Her succeeding releases were also met with acclaim and praise with her singles "Díganle" with Leslie Grace, "Sin Pijama" with Natti Natasha, "Booty" with C. Tangana, "Mala Santa", "Ram Pam Pam" with Natti Natasha, and many more.
With star-studded features and awards across her roster of records, the singer hopes to perform loud mega-parties at 'Mi Casa, Tu Casa'. "My hope is to have a very versatile set list, that takes my fans through the journey of self-discovery that I've gone through in the past few years," she told Variety. "Fans can expect to hear fan favorites — which I'm forever thankful for as they've all changed my life and allowed me to continue doing what I love, along with the songs that mean the most to me,"
After serving a wild performance of "Chanel" with Peso Pluma at the 2023 Latin AMAs, she took home an award for Song of the Year for "MAMIII" with Karol G, and Best Collaboration in the Mexican category. "My Mexican blood is everything to me," she shared as she received the award. "It is the blood that runs through my veins,".
Though changing her musical direction may have caused some eyebrows to raise at the height of her mainstream success, Becky G proves that staying true to her roots and what she wants to do pays off. As one of this generation's most influential Latin American artists, Becky G's set for big things. Well, there's also big surprises as she hints at new music in the works.
Taking pride in her craft and her Mexican roots, "I've always wanted to headline my own tour," she tells Variety. "I'm so proud of the journey I've taken and the work I've put in as an artist that's gotten me here." Sharing how Coachella was definitely one of the biggest milestones in her career, she hopes that she can deliver the same experience to all of her fans on tour.
Don't miss out on Becky G live at McAllen Performing Arts Center on October 1st by booking those tickets now!