McAllen Performing Arts Center | Mcallen, Texas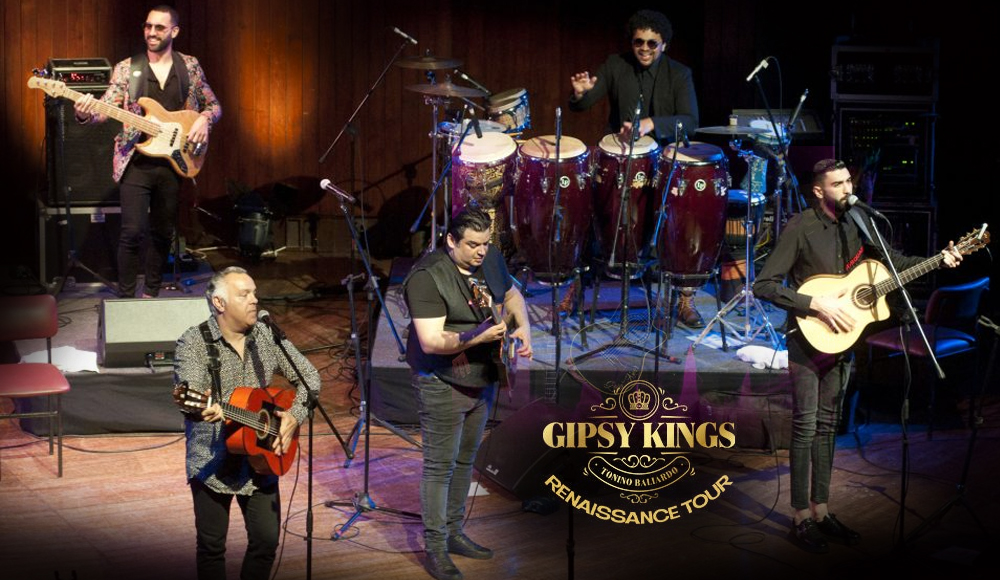 The world-renowned Catalan rumba, flamenco, salsa, and pop act, Gipsy Kings, is taking its journey to greater heights, kicking off its 2023 "Renaissance" Tour in full swing. Hailing from France with Spanish-rooted backgrounds, they've captivated fans across the world for their vibrant and unique artistry, bringing rumba flamenca to the world stage. This time around, Gipsy Kings is extending its purpose-led "Renaissance" revival trek with Tonino Baliardo this fall, hitting the stage at McAllen Performing Arts Center on Saturday, October 28th of this year. With over twenty (20) million records sold globally spanning three decades of flamenco-pop hits, Gipsy Kings is definitely a band to watch out for. Its sonic revival tour coincides with the band's newest album of the same name, acclaimed as "an album full of gypsy passion and tradition drawn from true gypsy life." As passion and tradition join forces in bringing flamenco music to the live stage in this modern age, make sure to mark your spots at the Renaissance Tour by booking your tickets now!
Since the '70s, the Reyes Brothers and their cousin Tonino Baliardo teamed up to make their Spanish-rooted flamenco passion known across the world. Starting out as a gypsy band that traveled around France playing at weddings, festivals, and busking on streets, they soon gained massive attention with the release of their self-titled third studio record, marking themselves as the "Gipsy Kings".
This time around, Nicholas Reyes and Tonino Baliardo are still in the game! Responsible for bringing pop-oriented flamenco, pop, and Latin rhythms to a global audience, the band is currently on its newest "Renaissance" Tour in support of its latest release. From dominating the scene in the late '80s with its hit singles "Djobi Djoba", "Bamboléo", and the ballad "Un Amor" spending 40 weeks as an album in the US charts, their influence continues to make a great impact to this date.
In a feature written by V13, Gipsy Kings' music is described as "a refreshing gust of wind in a stale room, a captivating mix of Catalan rumba, flamenco, salsa, and pop that defied categorization and left listeners craving for more," With thirty rich years of reviving their Latin roots, they're definitely a band whose impact in culture and heritage remains greatly appreciated.
Extending their mission of reviving flamenco into the modern age, they're set to play their biggest hits, crowd-favorites, and new music in the Renaissance run. "Over the years we have played America and made many friends on our journey there. We will be playing all the favourites and some new songs as well," Baliardo shared in a statement. "Of course, it will be a wonderful fiesta."
As the fiesta calls its community of Latin music fans, Gipsy Kings and Tony Baliardo are leading this year's biggest party. Evoking a spirit of celebration and tradition in its infectious sonic blessings, no band compares to the Kings' talent and dedication.
In a concert review by DH News, "it was a set to be remembered, and had an infectious energy that would carry the audience members throughout the remainder of the evening," its editor shared. "Not to be missed, The Gipsy Kings are definitely a band best experienced live."
This is your sign. Rooted to uphold its culture and tradition, best experienced live, mark your spots at the Renaissance Tour with Gipsy Kings and Tony Baliardo by booking your tickets now!