McAllen Performing Arts Center | McAllen, Texas
One of the hottest rising stars hailing from Mexico, Kevin Kaarl, is setting foot on a series of shows, including a stop at McAllen Performing Arts Center on Saturday, 1st of April 2023. With his two records "Hasta el Fin del Mundo" and his new album "Paris Texas" earning him loyal followers and fans, Kevin Kaarl has become a rising star to watch out for, with his edge of composing relatable songs about pain and the journey of growing up. On a mission of integrating humanity into his craft, Kevin Kaarl is definitely an artist to watch out for. Don't miss out on this chance to catch him performing live on stage by booking your tickets now!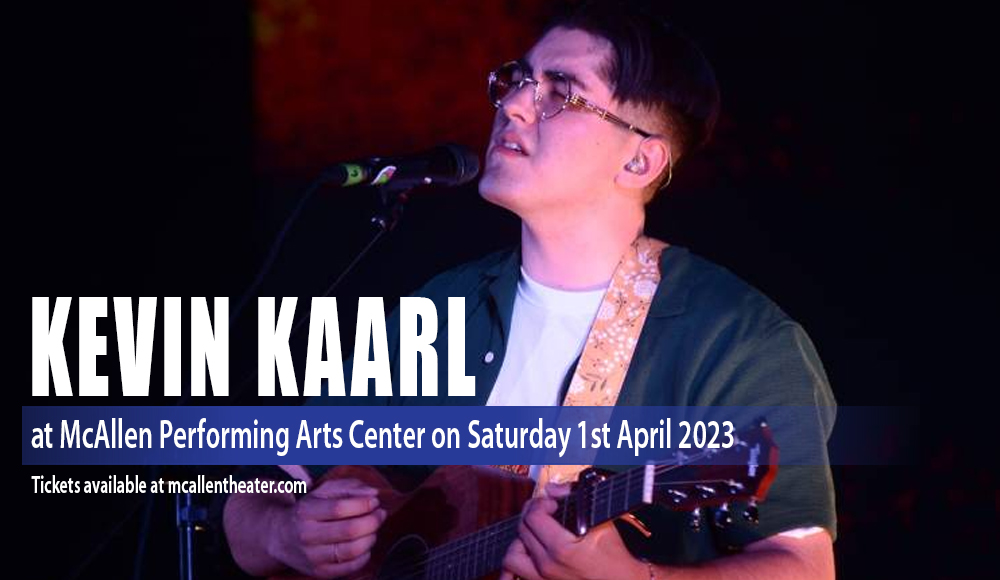 Hailing from a small town in Northern Mexico, a shining gem was found as twin brothers Bryan and Kevin found themselves sharing a love for music. Kevin participated in various choirs and musical bands throughout his childhood. Carrying on his love for music all throughout his life, he released his first single "Amor Viejo" in 2018, followed by his next single "Vámonos a Marte", amassing widespread attention from which he started growing a following in the industry.
His new album "Paris Texas" serves an abundance of sound, with alt-rock and dream-pop elements that signify growth in Kevin Kaarl's sonic direction. Every song on the 13-track record tells deeply personal tales of the pains of growing up.
"The album is a story of someone who lost interest in himself and then rediscovered themselves," Kevin Kaarl shares in an article with Rolling Stone. "It makes you feel more human that someone who was lost was able to find themself."
Embarking on his second US tour after a successful run the last time he performed a string of shows, Kevin Kaarl is a musician driven by passion for his craft that never fails to exude his honesty and original artistry.
The album's name is inspired by a movie from 1984 named "Paris, Texas" starring Henry Dean Stanton who depicted a character of rediscovering ones' self and healing from a life to be left behind.
"I connected with that movie and it made me feel good because I could relate to the guy in the movie," he shared. "I feel I saw it at the right time and it helped me a lot creatively. It helped me a lot — a lot to finish this album."
With his new record out in the airwaves, listeners continue to be drawn by Kevin Kaarl's authenticity and inspiring artistry reflected on his work. As he celebrates this milestone, don't miss out on his live shows by booking your tickets now!