McAllen Performing Arts Center | Mcallen, Texas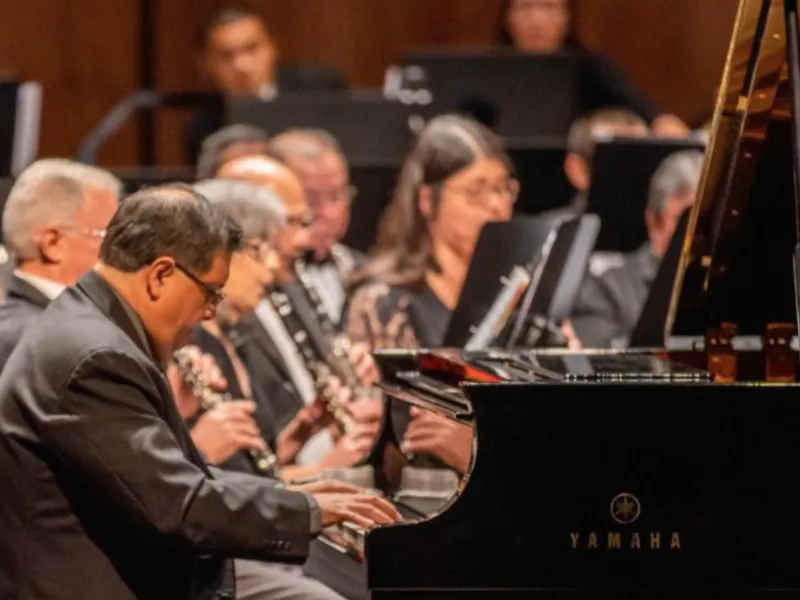 Experience the all-American spirit with a splash of blues! The McAllen Wind Ensemble: Red, White, and Blues plays at the McAllen Performing Arts Center on Tuesday, November 14th. Presented by The Town Band Association, this two-hour event will feature patriotic favorites, toe-tapping jazz classics, and an exploration of the smooth "blue side" of music! Be there as the performing group celebrates the premiere of their 50th golden anniversary season that covers three more dates after the first show. Committed to providing an avenue for talented musicians to grace the Rio Grande Valley, the "Mayor's Own" concert band in McAllen is definitely not one to miss, especially for all the classical music connoisseurs out there! Witness the world-class band at the Texas stage, known across the area as the best destination to see both live music and theatrical performances. Go with the flow of the wind and purchase your tickets before they run out!
Suit up and invite your family and friends this fall as the McAllen Wind Ensemble presents Red, White, and Blues at the McAllen Performing Arts Center on Tuesday, November 14th. This event is a special one as it marks the 50th golden anniversary season of the symphonic ensemble, to be followed by shows in December, February, and April at the same venue.
According to their official website, the McAllen Wind Ensemble is a non-profit organization formed during the early 1970s with the mission "to encourage continued interest in music by those who might have no other outlet for participation in musical activities, especially in playing musical instruments." In addition, the organization aims to enhance the community's quality of life in the Lower Rio Grande Valley through public concerts and local school music programs.
The McAllen Wind Ensemble's Team consists of Roger Olivares as the Music Director, Carlos Cantu as President, Roy Contreras as Vice President, Jon Stevens as Community Liaison, Ed Keebaugh as Treasurer, Martha Clow as Secretary, Elizabeth Pierson as Librarian, Norman Gamboa as Concerto Competition, Ben Coy as Head of Personnel and Robert Heath as Webmaster.
Comprising over seventy dedicated volunteers from diverse backgrounds, the ensemble unites individuals who share a passion for music. "One of the great things is that it's a place where people can live out their passion for performing music, and do so and have their careers and families," Town Band Association Board Member Jon Stevens shared. "It is made of up community members and run by community members."
While the group's rehearsals and concerts were temporarily suspended during the COVID-19 pandemic, Stevens emphasized how this challenge prompted the organization to innovate and embrace new methods for presenting shows. "It did cause us to do new things. Trying things out digitally and producing a concert that was fully streaming," Stevens mentioned. "We'd never done that before. I think any organization, as it grows needs to evolve. So, in some ways, it was a year that pushed us to evolve."
The McAllen Performing Arts Center is a state-of-the-art theater that opened in the fall of 2016. More than eight stories in height, this premier entertainment facility holds the greatest shows with its impressive acoustics and warm interior. Reserve your tickets to the McAllen Wind Ensemble: Red White and Blues show on November 14th!