McAllen Performing Arts Center | McAllen, Texas
The sensational Chilean singer and songwriter Mon Laferte whose classy take on Latin music is driven by blends of indie, blues, alt-rock, electronica, ranchera, bolero, and Música cebolla is on tour in the US! Catch her live at McAllen Performing Arts Center on Friday, 29th of July 2022. The singer bagged a slew of Latin music awards including Latin Grammys, Billboard Latin Music Awards, MTV Millennial Awards, Premios Juventud, Spotify Awards, and so much more. Having just dropped a new video for her song "Supermercado", big surprises are in store for fans of the Chilean sensation. Don't miss out on Mon Laferte's big return to the stage by booking your tickets now!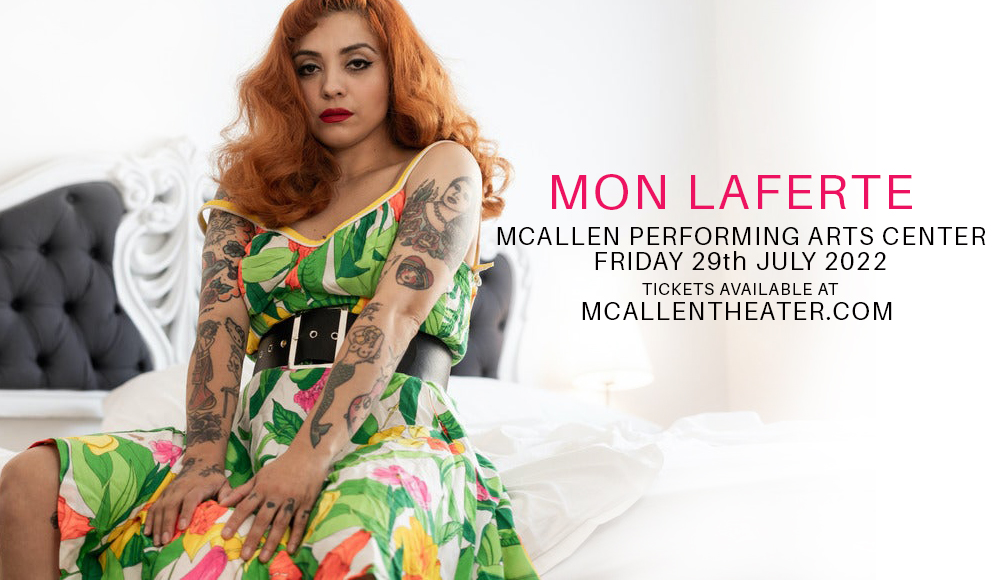 Born Norma Monserrat Bustamante Laferte in Chile, Mon Laferte owes her grandmother for being one of her first influences in diving into music. She started taking over the scene at age nine when she won a guitar at a singing contest. That point marked the start of Laferte's journey to becoming one of Latin music's essential artists. As Monserrat Bustamante, she took her first big shot at the scene by joining the Chilean reality show "Rojo" in 2003. That same year, she dropped her debut studio record "La Chica de Rojo". The album made it big in the Chile music scene, bagging Platinum and Gold certifications.
In 2007, she made the big move to Mexico to start a new chapter in music. She recorded songs and sang in nightclubs. In 2009, she battled thyroid cancer which halted the release of her supposed-to-be second album. At this time, she changed her stage name into "Mon Laferte", making a mark of a new beginning.
"Mi cambio de nombre no es por querer ser otra persona, es que las circunstancias de la vida me han llevado a cambiar mucho y sentí que tenía que empezar de cero."
In 2011, she released her second album "Desechable". Since then, she started making waves in the Latin music scene, amassing listeners and a slew of awards and recognitions along the way.
Her notable singles, hits, and fan favorites include "Tormento", "Si Tú Me Quisieras", "Amor Completo", "El Beso", "Caderas Blancas", "Amárrame" feat. Juanes, "Antes de Ti", and "Mi Buen Amor" feat. Enrique Bunbury.
With 8 studio albums up her sleeve, Mon Laferte is set to create even bigger waves as she continues diving into the scene, distinguished by her fresh takes in the Latin music catalog. Just recently, Laferte shared a new video for her track "Supermercado" off of her 2021 album "1940 Carmen". "I got mad at my partner at the supermarket and wrote the song while I was there," she shared in a press release.
Her latest album features her songs "Placer Hollywood", "No Soy Para Ti", and "Química Mayor".
Don't miss out on catching Mon Laferte bring out her captivating vocals and signature Latin music live on stage at McAllen Performing Arts Center on July 29th by booking your tickets now!