McAllen Performing Arts Center | Mcallen, Texas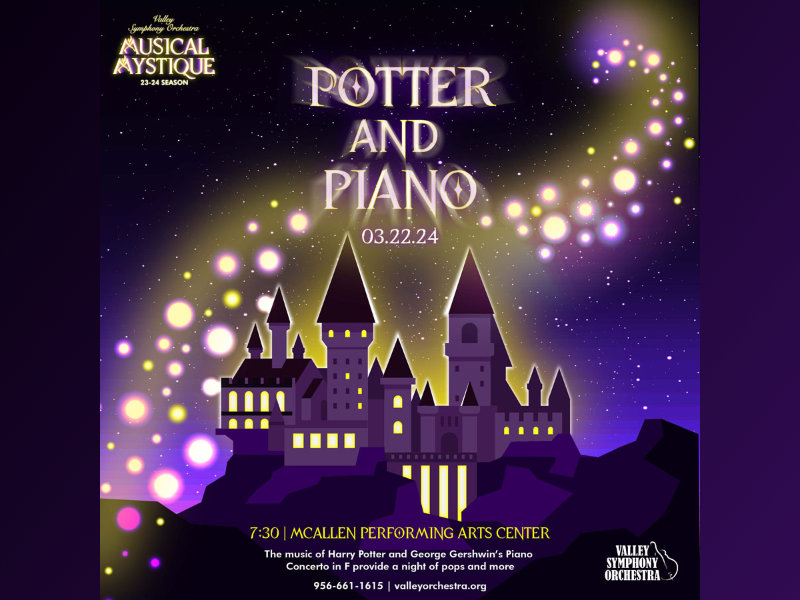 If there's one orchestra that's a cut above all the rest, its gotta be none other than the Valley Symphony Orchestra, and now they're bringing fans an incredible showing of Potter and Piano as a part of their 2023–24 masterworks concert season. The show will feature music from the Harry Potter films, which will be performed to an extremely high level, complete with exceptional musicianship and attention to detail. Everyone has loved the movies, and now they get to experience the music brought to life. No real fan is gonna want to miss out on this pretty spectacular event, so be sure to grab your tickets way before they sell out. Luckily, we've got tickets right here and now for sale and you can secure yours simply by clicking the "GET TICKETS" button for the show on Friday, March 22nd, 2024 at the McAllen Performing Arts Center.
The 2023–2024 masterworks concert season of the Valley Symphony Orchestra has been announced, continuing the orchestra's long tradition of providing outstanding performances to the residents of the Rio Grande Valley. The McAllen Performing Arts Center will play host to all five concerts in the series, which obviously includes this one. The venue is an amazing place and really befitting of a show of this caliber.
Music of the Greats, Lyrical Legends, Potter and Piano, Spellbound Symphony, and A Touch of Frost are just some of the titles available. Maestro Peter Dabrowski will be in charge of conducting all performances. Throughout his time at VSO, he has wowed crowds all around Texas with his incredible talents.
This particular part of the series is all about the music from the Harry Potter movies and George Gershwin's Piano Concerto in F, which provide audiences with a night full of the most dynamic and dramatic music. Full of enchantment, this will be literally like watching music come alive on the stage.
The orchestra will perform some of the most beloved numbers from the franchise, and you will be forgiven for thinking that you've been teleported into a wizarding world full of magic and wonder. Any fan of classical music would be jumping for joy at this opportunity. Furthermore, the orchestra will be on a stunning set of perfectly designed productions with amazing world-class sound and lighting.
The orchestra is famed for performing hit after hit and getting the audience involved, so prepare to be blown away. It's going to be a wonderful celebration, perfect for getting you in the mood, and it will probably set the tone for a fantastic 2024.
Something this special doesn't come around very often, and so naturally people will be rushing to secure their tickets. You really don't have much time now, so be sure to act with haste so that you can reserve your seats right here and now on this website. Our process is fast, secure, and really easy to do. So don't waste a single second and get it done right now.