McAllen Performing Arts Center | McAllen, Texas
Get ready for some amazing laughs this summer season because Mexico's top comedian, Brincos Dieras, is bringing his highly-acclaimed tour to North America! Nuevo Leon's favorite Tiktok viral clown will be making his phenomenal return to U.S. shores! This time, he's delivering a brand-new show and plenty of fresh jokes! Brincos Dieras has entertained the world with his jokes, some of them risque! The comedian is definitely not for the faint of heart, but he knows how to tickle your funny bone – it may be due to his wacky clown makeup, or maybe it's just his incredible knack for comedy! Surely, you will want to bring the entire squad to this once-in-a-lifetime opportunity to see Brincos Dieras! On Saturday, 17th June 2023, the critically-acclaimed comedian will return to McAllen, Texas! The sensational performer has been known to make people laugh until they cry, and this 2023, it's guaranteed that he will do the same to his audiences! See him deliver his brand new material at the McAllen Performing Arts Center, along with special guests El Chulo and Tito el Ranchero! So enjoy the best of Spanish comedy this summer by scoring tickets now!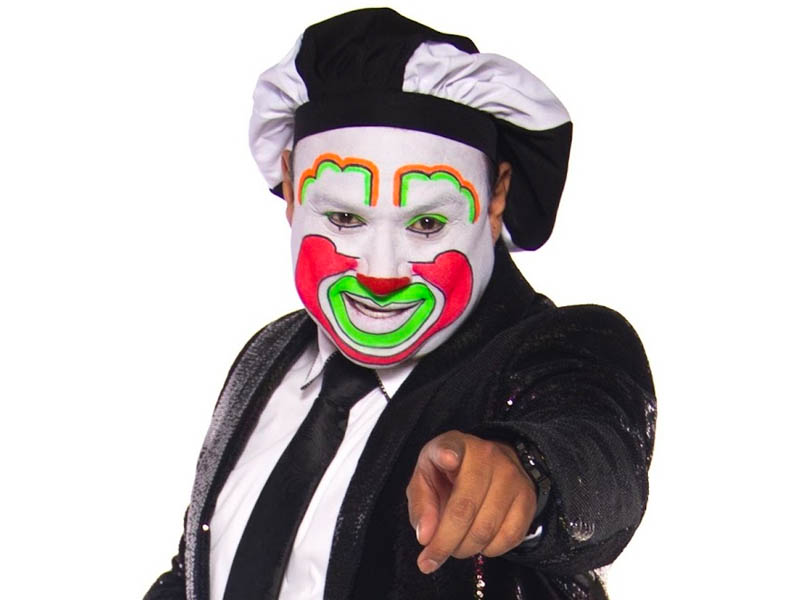 Roberto Carlo is a 50-year-old comedian who goes by the stage name Brinco Dieras. Hailing from Monterey, Nuevo Leon, he has created a stark reputation as one of the must-see performers in Mexico and beyond. His character, Brincos Dieras, was a result of several experimentations with various names and personas. His early moniker was "Tongorito," and he performed free of charge at private events and family parties. In fact, he used to crash private parties and perform without being invited. Carlo was driven by his passion for making people laugh and providing top-tier entertainment. Through these private gigs, he honed his skills as a performer.
After some time, Carlo decided to change his name to Brincos Dieras en la Dia y Ganas tienes en la Noche. This decision was an eventful moment in Carlo's career. While appearing as Tongorito in a church, he decided to put on make-up and don a wig. This improv gave birth to what would be the funniest clown in Mexico. Since the new name was a mouthful, he went by Brincos Dieras for short. He also began appearing as a clown with bright neon makeup to add to the theatrics. In an interview, Carlo explained how the character came to light. "By mistake, I became a clown, and the key is that I would have fun anywhere, and from there, I continue doing what I love the most."
His adult comedy content on social media has earned him a massive following. Soon, he began performing in paid gigs across the country. His popularity has grown so much that Carlo has extended his tours to North America and beyond. He's currently a viral Tiktok star with over 1.2 million followers. On Youtube, Carlo also has over a million subscribers on Youtube, who eagerly watch his content. His incredible humor has also gained some criticism. After all, Brincos Dieras' brand of comedy is not for very young audiences. However, he has a large teenage following. Nevertheless, his ability to brighten the atmosphere everywhere he goes has turned him into one of the most sought-after Spanish-speaking comedians. So if you want to see his incredible show this summer, you should hurry and secure tickets to his performance at the McAllen Performing Arts Center!