McAllen Performing Arts Center | Mcallen, Texas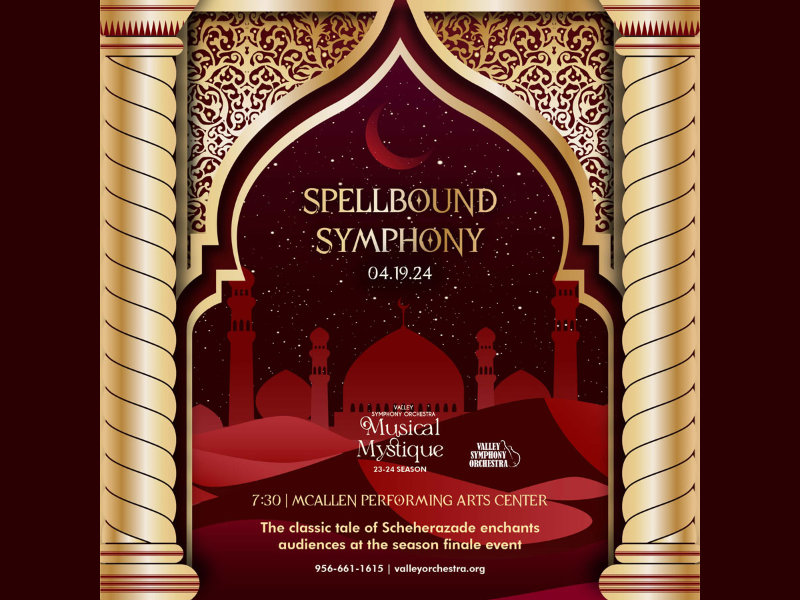 The Valley Symphony Orchestra is bringing their years of experience and tradition back to the McAllen Performing Arts Center on Friday, April 19, 2024, for a one-of-a-kind showing of the classical tale of Scheherazade, the SPELLBOUND SYMPHONY. You can expect to be thrilled song after song as the orchestra takes you on a mesmerizing journey through captivating rhythms and magically charged melodies, all performed with the utmost attention to detail. It's a truly enchanting experience that will bring the music to life and leave you with one of the best memories of your life. Grabbing your tickets early is a must, as something like this is bound to sell out in an instant. Luckily, we've got reservations available right here and now, and all you have to do is click on the "GET TICKETS" button to secure your seat. So get it done right now!!!
VSO is now in its 72nd concert season, and they've just announced the '23-'24 masterworks season. It's an incredible lineup of shows that are sure to transport you into the world of orchestral greatness. Each one of the shows has been painstakingly produced to an extremely high level and includes some of the most alluring pieces from classical music, such as "Music of the Greats, "Lyrical Legends," "Potter and Piano," "A Touch of Frost," and, of course, the season finale (which is the reason you're here), SPELLBOUND SYMPHONY.
Led by the legend himself, Maestro Peter Dabrowski, his incredible talents have been enjoyed by people all around Texas throughout his time at VSO. Dabrowski has had performances of his music at the Moscow International Music Festival and the Cross Drumming Festival in Warsaw. A star on the Rio Grande Valley Walk of Fame in Hidalgo adds to the acclaim from McAllen and Edinburg. He has also been honored as a Distinguished Faculty Member at UTPA and by the Mexican Consulate in McAllen for his contributions to the dissemination of Mexican music.
The production will feature Rimsky-Korsakov's captivating Scheherazade, which was in turn inspired by "The Arabian Nights. It's nothing short of a riveting adventure, and the work is breathtaking, full of beauty and evocativeness. ...aaannddd with its sweeping melodies taking you through the highs and lows of the narrative, it is sure to whisk listeners away to a land of mystery and romance. Plus, the orchestra has been well known for getting audiences involved in the whole process, which is the cherry on top of the whole experience.
The McAllen Performing Arts Center has become a cultural icon in the area and has been serving the community with a diverse range of performances. It's become one of the go-to locations in the area for anything worth watching and will provide you with the best facilities and amenities. So you can be sure that all your needs will be met.
Known for excellence, VSO has been doing this for a long time now, to huge applause and critical acclaim. It's easily going to be sold out very quickly, and you must purchase your tickets right here and now before it's too late.